Born: 6 Jan 1896, Flynn's Lick, Jackson County, TN

Died: 8 Apr 1982, Cookeville, Putnam County, TN

First Married 29 Sep 1920: Maud Ellen Dow

Bn: 12 Nov 1901, Cookeville, Putnam Co. TN

Died: 22 Apr 1954, Cookeville, Putnam Co. TN

Second Married 12 Mar 1955: Mamie Helen Bartlett

Bn: 28 Apr 1912, Putnam Co. TN

Died: 16 Nov. 2006, Cookeville, Putnam Co., TN
I'm not sure exactly when the below letter to the editor was published in one of the Cookeville newspapers, but I include it here because it says a lot about Hubert Crawford and the man he was. We could use a few more men like Hubert Crawford in the year 2012 when I'm building this memorial web site for him.
Your browser does not support the audio element.

Use the audio player above to hear the speech.

In June of 1976 80 year old Hubert Crawford recorded a 20 minute speech recounting his recollections of Cookeville during the early years of his life. This speech was played on WHUB radio to promote the Cookeville bicentenial celebrationof 1976. There is a small section of the recording in the middle that is somewhat garbled, but after the garbled sectionthe speech continues and is very clear for the remainder of the speech. This is worth listening to as he tells us aboutCookeville's history through the eyes of a long time resident.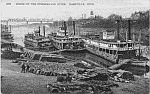 Hubert's father, William Alexander Crawford, and his wife Mary Amelia Brown owned and lived on a large 300 acre plus farm on White's Bend on the Cumberland River near Flynn's Lick in Jackson County TN. He was also a river boat Captain during the months when the Cumberland River was navigable.
Below are some of the river boats that Hubert's father Alex captained:
From the James E. York Post Card Collection
Name: HENRY HARLEY
Type: Sternwheel, wooden hull packet
Size: 160' X 29' X 3.2'
Power: Engines, 12's- 4', two boilers, each 42" X 22'
Launched: 1898, Jeffersonville, Ind. at Howard Yard
Destroyed: 1917, Jan. 13, blown ashore in heavy ice and lost
Owners: Built for Capt. J.R. Handly and family, Nashville-Burnside
Later went to Ryman Line
Captains: first was William T. Hunter
Comments: Was laid up at Nashville when line took bankruptcy
Name: JOHN FOWLER
Type: Sternwheel, wooden hull packet. Size: 147.5' X 28.5' X 3.5'. Launched: 1886, Jeffersonville, Ind. by Howard Yard.
Destroyed: 1892, still listed Area: Cumberland R., Nashville-Burnside trade Owners: When new, Alex Kendall and Arch P. Green
Captains: included W.A. Crawford and A.T. Armstrong
Name: JO HORTON FALL/VALLEY QUEEN
Type: Sternwheel wooden hull packet
Size: 158' X 28' X 4.' Power: Compound engines, 9's, 18's- 5 ft. 2 boilers, each 38" X 24'.
Launched: 1913, Jeffersonville, Ind. by Howard Yard
Destroyed: 1934, on Mo. R. trip at Omaha, Neb. sunk and lost
Area: Under Ryman Line and under Nashville Nav. Co., Cumberland R.
1921, Nov. went to Greasy Creek
1926, short trades to Caruthersville. Mo. and elsewhere
Owners: Built for Cumberland River Steamboat Company, ie, Capt. Tom Ryman, Jr. and others
The Nashville Navigation Company later took her over.
Later still went to Capt. Peter Lee and renamed VALLEY QUEEN, an excursion boat
Captains: 1921, Charles Hill
Comments: 1915, fall, Capt. Ryman, Jr. was shot and killed aboard this boat. Capt. Peter Lee converted her to an excursion boat.
Name: 1897-1914, BOB DUDLEY
Owners :Ryman Line, Nashville, Tenn. - 1864? through 1910 when it failed Area: Cumberland and Tennessee Rs.
Owner: Capt Thomas Ryman
Comment: Ryman holdings went to forced sale.
In 1889 Tom Ryman, Sr. built the Ryman Auditorium in Nashville,Tenn. to accomodate the large following of evangelist Sam Jones. For years this building was the home of country and western music's Grand Ol' Opry.
Alex's father, Samuel Crawford, and his wife Catherine moved to Jackson County from Tompkinville, Monroe County, KY prior to 1847 when William was born in Jackson County TN.

Samuel's father, James Crawford, was born in TN according to the 1880 Federal Census taken when he was 85 and he and his 54 year old wife Clemintina were living in Tompkinville KY. Apparently his first wife, Elizabeth had died and he had re-married.

Sometime about 1900 William Alexander Crawford moved his family to Cookeville and bought the planing mill on the west side of town and built a large house where the Cookeville Police Department is now located. They also bought farm land where Tennesse Tech is now located north of town.

From the record of Hubert's 4th Grade Report Card to the right one can see that he was living in Cookeville in 1905. I'm not sure what was going on with the "Reading" score as it appears to have been marked out and raised, but the overall average still reflects the lower original score.
It is my understanding that Hubert and his family lived in the above referenced house (shown below in the painting by Hubert Crawford) until William and Mary died and the house was sold to the Greenwoods.
Hubert's father Sam died in Cookeville 24 April 1922 and his mother Mary died in Cookeville 15 February 1923.
Will of William Alexander "Alex" Crawford written 3 April 1922 and filed 3 May 1922 in Putman County TN Court. This was copied from a microfilm copy on file at the State of Tennessee Library and Archives.
Alex Crawford Will by Larry Feldhaus
Capt. William Alexander Crawford Obt.

b. 16 March 1846, Jackson Co., TN; d. 24 April 1922, Putnam Co., TN (Masonic emblem), md Mary
Amelia (Brown) Crawford, b. 26 August 1856, Jackson Co., TN; d. 15 February 1923, Putnam Co., TN,
d/o Dr. Uriah Thomas Brown (1834-1870) & Cypressa Calvin Brooks (1835-1866), both buried in
Anderson Cemetery, Jackson Co., TN. William A. Crawford, s/o Samuel Crawford (1827-1860) &
Catherine Clark Keith (1828-1860). (Masonic symbol)

Capt. W. A. Crawford Goes To His Reward:
Splendid Citizen Passes Peacefully Away on Monday Afternoon:

In the death of Capt. W. A. Crawford which occurred at his home on Walnut street last Monday afternoon at one o'clock, Cookeville lost one of her very best and most beloved citizens

Capt. Crawford had been in bad health for the past year, but after an operation at John Hopkins Hospital at Baltimore last summer, he recuperated his health to some extent, and his family and friends were much encouraged regarding his condition which appeared to be very much improved. During the past three months, however, he had been gradually growing weaker, and while everything was done for him that loving human hands could do, the inevitable end of a long and useful life was seen to be drawing near by those who attended him and by his friends who came to visit him.

Capt. Crawford was a native of Jackson county but had made his home in Cookeville for twenty years, with the exception of three years when he lived in Cheatham county, near Ashland City. He was a public-spirited citizen of whom any community would be justly proud. He was always to be found on the moral side of all questions. He was in fact a high-toned Christian gentleman, who lived his religion each day of his life, rendering every possible assistance to the needy and distressed and in every way demonstrating his love for his fellowman. No man ever appreciated his friends more than did Capt. Crawford and during his long sojourn in this community he had gained the love and respect of all who knew him.

Capt. William Alex Crawford was born March 16, 1849, and at the time of his death had reached the age of 73 years, one month and eight days. On November 28, 1871 he was married to Miss Mary Brown, daughter of Dr. U. T. Brown of Jackson county, who survives him. He professed religion in 1873 and united with the Methodist church about 27 years ago. He was a Steward in the Cookeville Methodist church at the time of his death and always took a great interest in the work of his church. He was also an active member of the Masonic and Odd Fellows fraternities, and these two orders conducted the burial service, administering the last sad rites over the body of their beloved brother in a most impressive manner.

Funeral services were held at the home of the deceased. Tuesday afternoon at 2 o'clock attended by hundreds of friends and relatives. The services were jointly conducted by Rev. R. J. Craig of Sparta, former pastor of the local M. E. church, and Rev. A. P. Walker, his pastor, after which the interment took place in the Cookeville city cemetery.

Surviving him are his wife, Mrs. Mary Brown Crawford, four sons, Luke, Sam U., Hubert, and Walter Keith Crawford, all of Cookeville, two daughters, Mrs. D. C. Lynn of Gainesboro, and Mrs. A. F. Barbour of Cookeville; also one brother, J. H. Crawford of Nashville. The sorrow-stricken family have the sincere sympathy of the whole community in their great bereavement.

Putnam County Herald, Cookeville, TN: Thursday, 27 April 1922.

William A. Crawford
b. 16 Mar 1849, Jackson Co., TN
d. 24 Apr 1922

Father: Sam Crawford, Centerville, TN

Mother: Catherine Crawford, Jackson Co., TN

Cookeville Putnam Co., TN
DC #95, Putnam Co., TN

(1910 census 1st Civil Dist., Cookeville Town, Board St., Putnam Co., TN: Dwl: 127 - William Crofford is head of household, 61 yrs. old, TN (father born in KY, mother, TN), Occupation: Lumberman Buy & Sell, md 38 yrs. to Mary A., 53 yrs. old, TN, Occupation: Keeper Boarding House, 8 children born, 6 children living. Children: Luke T., 27 yrs. old; William H., 14 yrs. old & Walter K. Crofford, 10 yrs. old. All born in TN. Also living in the household: William Gailbarth, servant, 35 yrs. old, TN & Mariah E. Gailbarth, servant, 18 yrs. old, TN, Occupation: Cook Boarding House).

(1920 census 1st Civil Dist., Walnut St., Putnam Co., TN: 610-30-31- William A. Crawford is head of household, 70 yrs. old, TN md to Mary, 63 yrs. old, TN. Living in the household: Luke Crawford, son, 35 yrs. old, single, TN; Sam U. Crawford, son, 30 yrs. old, TN, William H., Crawford, son, 23 yrs. old , TN & Walter K. Crawford, son, 20 yrs. old, TN. Minnie Barbour, dau., 33 yrs. old, TN, widow: James Barbour, grandson, 9 yrs. old, TN; Mary B. Barbour, granddaughter, 6 yrs. old, TN; Minnie Barbour, granddaughter, 4+ yrs. old, TN & Fannie B. Barbour, granddaughter, 3 3/12 yrs. old, TN).
| | |
| --- | --- |
| Hubert Crawford about 1950 | Hubert Crawford at about 30 years of age |
Hubert Crawford announced this week that he is a candidate in the race here for the state senate.
He notes in his announcement that he was born at White's Bend in Jackson County, the son of veteran Cumberland River steamboat captain Alex Crawford.
Crawford has been police chief here for several years, among other distinctions.
Hubert and General Hilton Butler, both volunteers for the Heart Fund. Not sure when this picture was taken.