Click on the links below to view the 2009 tournament photoshows. There is a HD icon on the bottom of the PhotoShow screen that you can click to view the PhotoShow on the full screen of your PC. These images are 600 x 800 pixels in size.
PhotoShow has been sold to Roxio and I am experiencing some problems with that format as a result. I am not sure how much longer that format will be available. As a result I am experimenting with the SlideRoll flash slide show above to see if it might be a substitute for the Photoshow slide show.
In addition, below each Photoshow is a link to a siide show from MyPhotoAlbum.com that contains higher resolution images in 1200 x 1600 pixels. To view the slide show in full screen mode click on the "full screen" icon as shown in the photo below.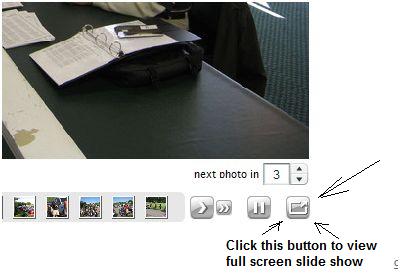 2009 March 31 at Country Hills
2009 May 5 at Nashboro Village
2009 May 19 at Montgomery Bell
2009 June 2 at Forrest Crossing
2009 June 30 at Eastland Green
2009 July 9 at Through the Green
2009 July 28 at Harpeth Hills - Rain-out
2009 August 10 at Temple Hills
2009 August 24 at Harpeth Hills
2009 September 3 at Pebble Brook
2009 September 8 at Twelve Stones Crossing
2009 September 29 at Rolling Hills
2009 October 6 at The Legacy - Rain-out
2009 October 12 at Old Natchez