Alfred Bartlett always said he was raised by Mrs. Bartlett. In her last will she leaves Alfred some amount of land with the reference that he was the boy she raised.

Alfred also said he was a half- brother to Isaac Buckner who lived in Detroit and often visited with his family and stayed with Alfred and his family. It's possible Alfred's father was the elder Isaac (Ike) Buckner who was single and about 27 when Alfred was born in 1879. Ike Buckner's mother was Katharine Verble Buckner who was Elizabeth Verble Bartlett's sister.

In an attempt to determine who Alfred's natural parents might have been, the following time line of information has been developed.

The picture below was taken about 1895 at Brown's Mill School and I believe it is Alfred Bartlett but am not sure. &nbsp With reference to the discussion below, it was always said that Alfred looked like a Bartlett and didn't look like a Buckner.
The following video was shot at Helen Bartlett Crawford's home in Cookevlle on 10 August 2000 when she was 88 years of age. She talked about what she knew about her father's parents.
Alfred Bartlett
Born 4 June, 1879 when James Bartlett was 70, James' son Joseph Bartlett was 43 and not married, and James' wife Elizabeth was 59. If either James or Joseph was the father of Alfred it's far more likely it was Joseph because of his age and single status.

The 1880 Federal Census for the 3rd civil district of Putnam County TN does not list an Alfred Bartlett.
The 1880 Federal Census lists Nancy Brewington, age 17 or 19 (not clear), and Alfred Brewington, age 1, living with John and Alta Whitaker and their 4 children.
| | | |
| --- | --- | --- |
| Click to see full sized images of the 1880 census pages for Putnam County TN District 3, Falling Water. | Page One | Page Two |
According to Civil War Union Pension application #723397, John Whittaker was born 26 Jan 1844 and was married to Alta Brewington in June, 1865. When she died on 14 June 1884 he married Nancy Jackson (or possibly Nancy Madewell) who died. On 28 August, 1894 he married Zilla Ferguson.
In the above 1880 census, Nancy Brewington's relationship is shown as "Boarder" and her occupation is shown as "Work in house". Further down the page is listed a Jane Brewington, age 35, with several children who is most likely Nancy's mother. Jane, 35 years old, had the following children living with her:
Mary – 17
John – 12
Francis – 4
William – 4
Thomas – 1
Sarah – newborn.
Alta Brewington, the wife of John Whittaker, has a sister named Elizabeth as shown in the followng census record.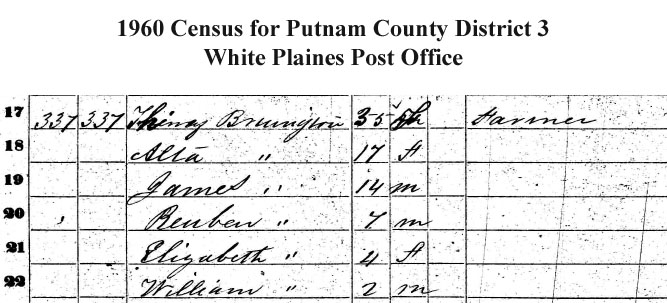 Elizabeth was born about 1856 and died in 1870.

The 1870 census for Putnam County, District 5 (next to District 3 as shown in the map at the bottom of the page) shows the following information for Elizabeth Bruington (spelling probably due to Census Taker or Elizabeth's lack of education as her father and mother spelled their names Brewington).




Notice Daughter Jane is the right age to be the Jane who is head of household in the above 1880 census. Also, Nancy and Mary A. are the right ages to be daughters of Jane in the 1880 census above. If so, Elizabeth is the mother of Jane and the grandmother of Nancy.
| | |
| --- | --- |
| Name: | Elizabeth Bruington |
| Age in 1870: | 50 |
| Birth Year: | abt 1820 |
| Birthplace: | Tennessee |
| Home in 1870: | District 5, Putnam, Tennessee |
| Race: | White |
| Gender: | Female |
| Value of real estate: | |
| Household Members: | |

1870 Putnam County Census for District 5, next door to District 3.
Notice the ages of Jane, Nancy, and Mary all are in line with the ages of the same named Brewingtons in the 1880 census above.
The 1860 census for District 5 of Putnam County also shows Elizabeth Bruington living there with her family.
| | |
| --- | --- |
| | 1860 Putnam County Census for District 5 |
Could this Alfred Brewington be Alfred Bartlett? The first name and birth date fit. So it's possible this could be Alfred Bartlett's mother. My mother-in-law said that her father Alfred always said his mother died from TB and that's the reason he was raised by Mrs. Bartlett. There is no record of the above Nancy Brewington's death that I have found, so we don't know what happened to her.

If Nancy is Alfred's mother, who is Alfred's father? It could be Joseph Bartlett, son of James and Elizabeth. It also could be Isaac Buckner's father, also named Isaac and sometimes called Ike.

The elder Isaac "Ike" Buckner is listed in the 1880 census as 28 and living with Calvin Bohannon, age 42, Calvin's wife Susan, age 27, and their son John, age 1. His relationship is shown as "brother". Ike Buckner is Susan's brother.

Listed below him is Belle Buckner, female, age 5. Her relationship is shown as "niece". When she died in 1950 she listed her parents as George W. Buchner. George W. is a brother of both Ike and Susan Buckner and it appears that George's first wife may have died and as a result Belle was living with her aunt Susan Buckner Bohannan.

Susan and Isaac's parents are William Buckner and Katherine Verble Buckner. Katherine was the sister of Elizabeth Verble Bartlett, wife of James Bartlett. Alfred Bartlett was raised by Elizabeth Bartlett. Isaac "Ike" Buckner would have been 27 years old when Alfred was born.

Katherine Buckner died in 1872 and William Buckner died in 1875. They had ten children and by 1880 they were all grown and most had large families. I guess that's why Ike was living with his sister Susan and her husband Calvin Bohannan who only had one small son.

The listing on the 1880 census was in order of where the households lived. Calvin Bohannon was #51, John Whitaker was #53, and Jane Brewington was #59 so they lived reasonably close to each other.
Click on this link to view a listing of all the land owners in the third district of Putnam County in 1883. This area covers the Falling Water, Brown's mill, and Dry Valley area.
21 March, 1885 James Bartlett died at 76 years old. Elizabeth was 65, Joseph was 49 and Alfred was 6. The farm was left 50/50 to Elizabeth and Joseph with the provision that if Joseph died before Elizabeth, the farm would all go to Elizabeth to do with as she pleases.

1890 Federal Census records were destroyed by fire so are not available for review.

14 August, 1891 Joseph D. Bartlett died at 55 year old. He never married. Elizabeth was 71 and Alfred was 12 years of age.

1900 Federal Census lists Alfred Bartlett, age 20, born 1879, living with Elizabeth Bartlett, age 83, born 1816, and two black servants, Lucy, age 33, and Joey, age 22. Alfred's relationship is shown as "servant" and his occupation as "farm labor". This is the first reference to Alfred Bartlett found in the old records.


Click to see full sized images of 1900 census for James Whittaker's household above and Elizabeth Bartlett's household below.
20 April, 1900 Martha A. Norris Buckner, wife of Isaac Buckner, died and was buried in the Bartlett cementery. She was born 25 December, 1858. Isaac Buckner was the son of the sister of Elizabeth Bartlett and that could explain why Martha is buried in the Bartlett cemetery. Isaac married Beulah Anderson on 28 September, 1900. The 1910 census lists Isaac Buckner living with wife Beulah, age 25, along with Wilburn, age 10, his son. The 1920 census lists Isaac as widowed. See more on this below.

19 Oct, 1909 Alfred Bartlett married Arizona (we know her as Zona) Whitaker. Elizabeth was 93 years old.

1910 Federal Census lists head of household Alfred Bartlett, age 28, and wife Arizona Bartlett, age 22 living with her sister Tinny Kirby, age 22, and Freddie Huddleston, age 25, a hired hand. This is the only time, other than the marriage license, we have seen Alfred's wife listed as Arizona. She went by Zona throughout her life. Head of Household Elizabeth Bartlett, age 91 is living with Evaline Carr, age 59, a servant.

12 January, 1911 Elizabeth Bartlett wrote a will indicating Alfred owned land on the east side of her farm.

17 March, 1911 Elizabeth Bartlett died at 95 years of age. Alfred was 32 years old. She left about 35 acres of her farm to Alfred and referred to him as "the boy I raised". The rest of the farm went to her brother John H. Verble with the provision he give a note to Jack and Clem Walker for $3,000. Clem was her sister. She valued the farm at $3,500.

25 Jan, 1916 Isaac Buckner, who Alfred said was his half brother, was born. Isaac's mother was Beulah Buckner who died 8 Oct 1916. Isaac's father Ike could be the father of Alfred with Nancy Brewington as the mother. If so, that would make Isaac and Alfred half-brothers as Alfred maintained.

12 Sep, 1918 Alfred Bartlett registered for the draft and listed his nearest relative as Isaac Buckner. It's unlikely he would list a two year old as his nearest relative. Could this be the elder Isaac, then 66? If so, what was their relationship? Was this his father? Or was Isaac just the last remaining relative of Elizabeth Bartlett who raised him?


Click to see full sized images of 1910 census pages above and a copy of Alfred's draft registration below.
1920 Federal Census lists Ike Buckner (widowed), age 68, as living with a son Wilber Buckner, age 19 (married), a son Coca Buckner, age 8, a son Isaac Buckner, age 4, and a daughter-in-law Tea Buckner, age 35 (married).

1920 Federal Census lists Alfred Bartlett, age 39, as head of household living with his wife, Zona, age 30, son James E., age 9, daughter Mayme, age 7, and son Herman, age 3.

1930 Federal Census lists Alfred Bartlett, age 50, as head of household living with his wife, Zona, age 42, son James E., age 19, son Herman, age 13, daughter Ruby L., age 8, and daughter Helen Cochran, age 17 (married).

Click to see full sized images of 1920 census data for Ike Buckner and household.
| | | |
| --- | --- | --- |
| | Click to see full sized images of 1920 & 1930 census data for Alfred and his househould. | |