The following was taken from the story "The Sandy Spad" by Robert S. DeGroat which is linked below.

In June 1944, Douglas began developing an heir to the successful SBD Dauntless. Their first try resulted in the mediocre BTD-1 Destroyer. The second submission, designed virtually overnight in the Statler Hotel in Washington D.C., was the BT2D Dauntless II, later to be known as the Skyraider The first flight of the Dauntless II was Sunday, 18 March 1945 out of Mines Field (now the site of LA International) by Douglas test pilot LaVerne Brown.

In April 1946, the U. S. Navy changed the way planes were identified, as if it wasn't complicated enough already. Douglas aircraft would be identified by the "Sky-" prefix for nicknames. The BT2D-1 Dauntless II therefore became the A (for Attack) D (for Douglas) "Sky"raider. The first variant was now called the AD-1 (and we all know the AD really means "Able Dog").

Almost throughout its long career, the Skyraider has also been dubbed the "Spad". Originally only a reference to an earlier era, some wag even made "SPAD" an acronym, as in "Single Place Attack, Douglas".

U. S. Air Force Skyraiders flew rescue escort missions identified by the call sign "Sandy".
Click her to go to the Wikipedia Douglas A-1 Skyraider web site that has lots of good information and links relative to this plane.
Click here to go to the Able Dog web site for Navy and Marine Corps aviators who flew all models of the Douglas AD Skyraider.
Click here to view the National Museum of Naval Aviation A-1H information.
Click here to access a list of US Navy and Marine aircraft serial numbers and bureau number from 1911 to the present.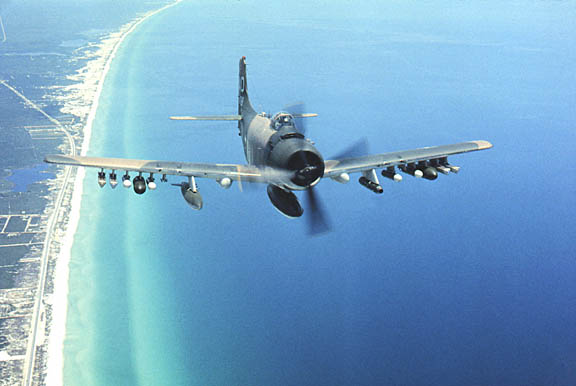 Click here to see Skyraider pictures by Commander Louis Burke, USN taken during the Korean war.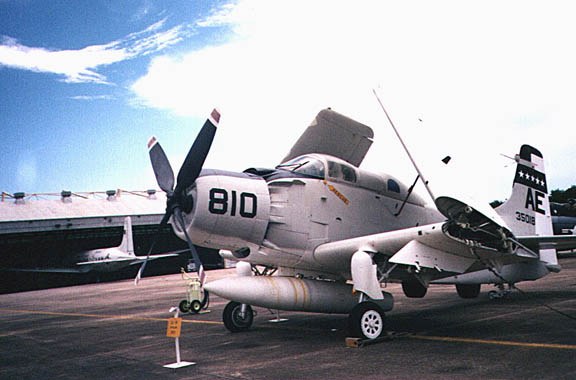 Click here to read about and see pictures of the last A1-Hs flown in Vietnam by the US Air Force.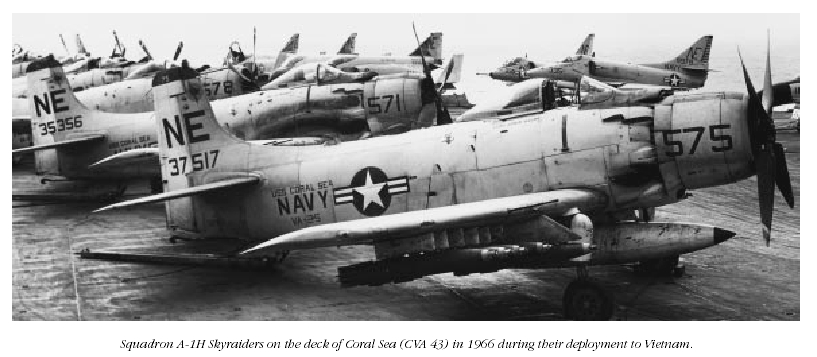 Click here to read emails from AD pilots entitled "The Spadguys Speak".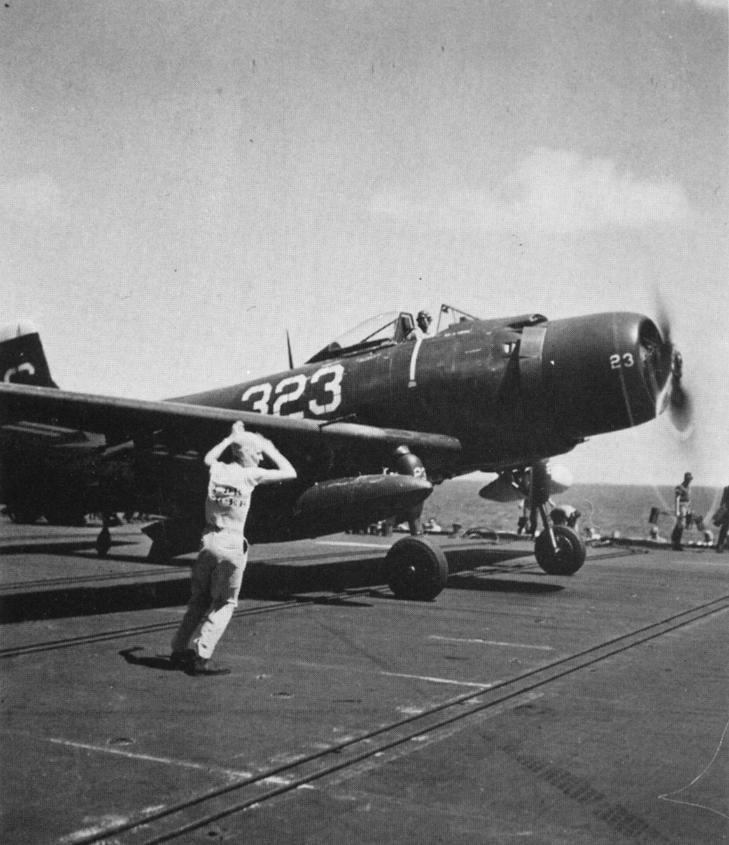 Click here to read a history of the Skyraider.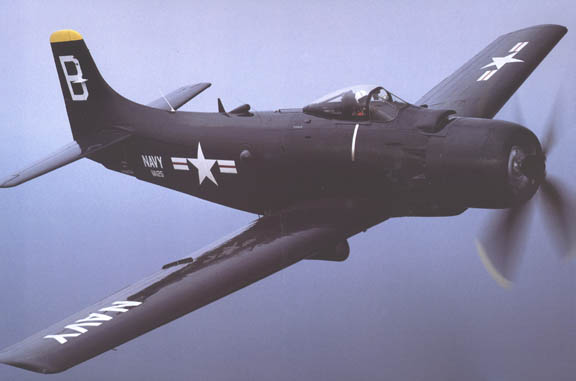 Click here to see detailed history and specs for the Skyraider.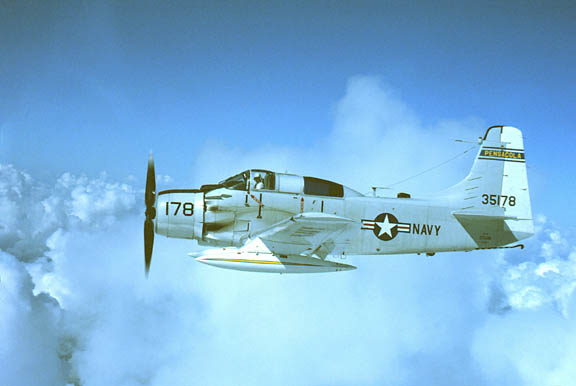 Click here to see names of the 40 US Navy and 104 US Air Force men who lost their lives flying the A-1 in south-east asia.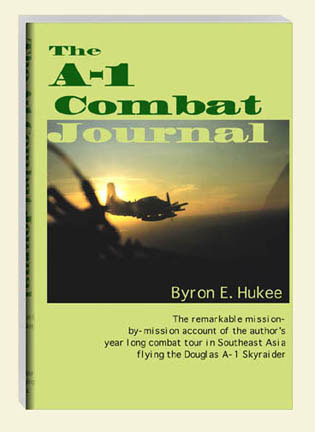 Click here to read the A1 Combat Journal book.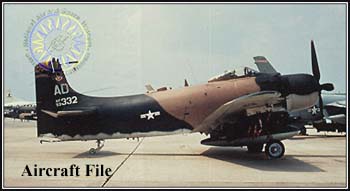 Click here to read "The Sandy Spad" Story and photo by Robert S. DeGroat. This story along with many more of Bob DeGroat's great photos first appeared in the Feb 1996 issue of EAA Warbirds magazine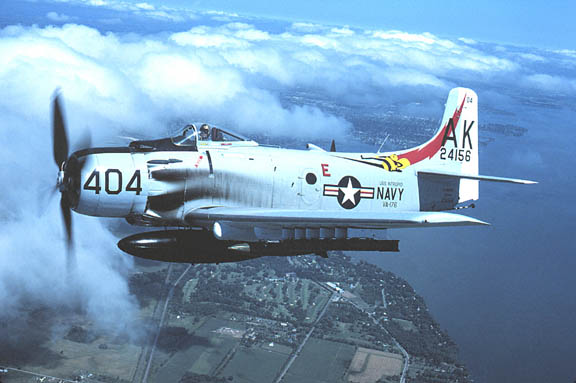 Click here to see a list of all the Skyraider squadrons and where they served.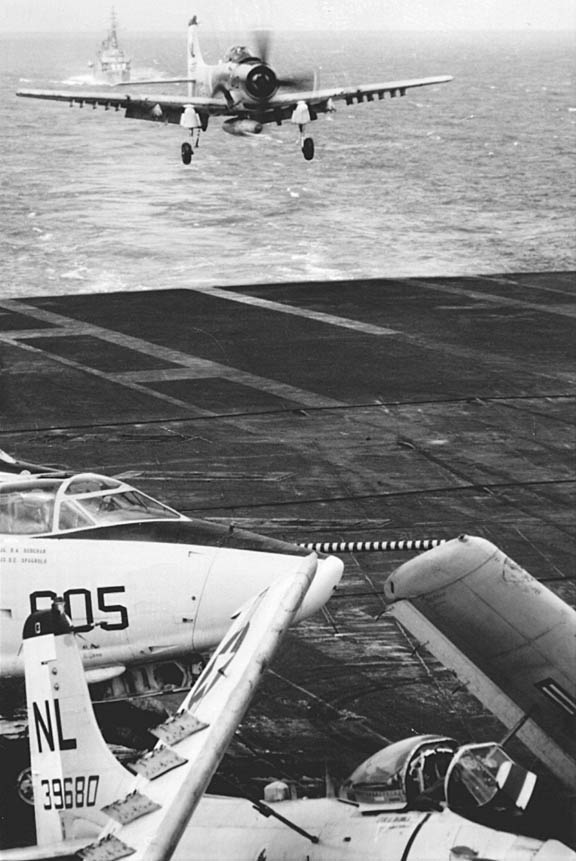 Click her to see a list of Douglas Skyraiders that either reside in museums or are currently maintained in flyable condition. .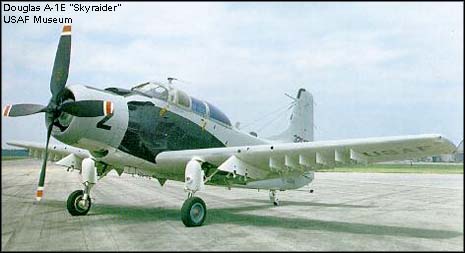 Click here to go to the official Skyraider web site.