Son of Henry Bernard Feldhaus Jr. and Mary Ann Schneider
Born: &nbsp &nbsp Lawrenceburg, TN on October 4, 1888
Died:&nbsp Shelbyville, TN in April, 1967
>
Henry was married to Mary Lena Boulie Feldhaus on 18 June 1923, one of several daughters of the owner of the Lawrenceburg Pressed Brick Company, William Boulie. She was born June 14, 1899 and died in Shelbyville, TN on December 31, 1988. They all lived in a row of brick houses across the street from John and Mary Schneider on North Military Avenue. There was a Feldhaus, a Boulie, a Van Hooser, and a Kemper. In the middle lived their brother, Johnny Boulie.

Joe Boulie, who was the son of William Boulie, married Anna (Ann) Theresa Feldhaus, the third oldest of the Henry Bernard Feldhaus, Jr. children.


Click this link to go to Ann Boulie's web page
When they first married, Henry and his wife worked in the office of one of the phosphate mines in Mr. Pleasant. I believe they both retired from the mine.
>
This picture of Henry on the left, my dad Lawrence in the middle, and Charles on the right was taken about 1915.
Henry and Lena had a large family. The oldest was Joseph Henry Feldhaus Jr. As a young man, his nickname was "Nooky". I never new why. He served in WWII in the army and was captured by the Germans and taken prisoner. He was nearly frozen and starved to death. When he was released after the end of the war he weighed less than 100 pounds. Henry went to medical school and practiced medicine in Shelbyville until he died suddenly in November of 1988. In the picture below all of the children are shown with the exception of Katherine.
This is the family of Henry Feldhaus, Jr.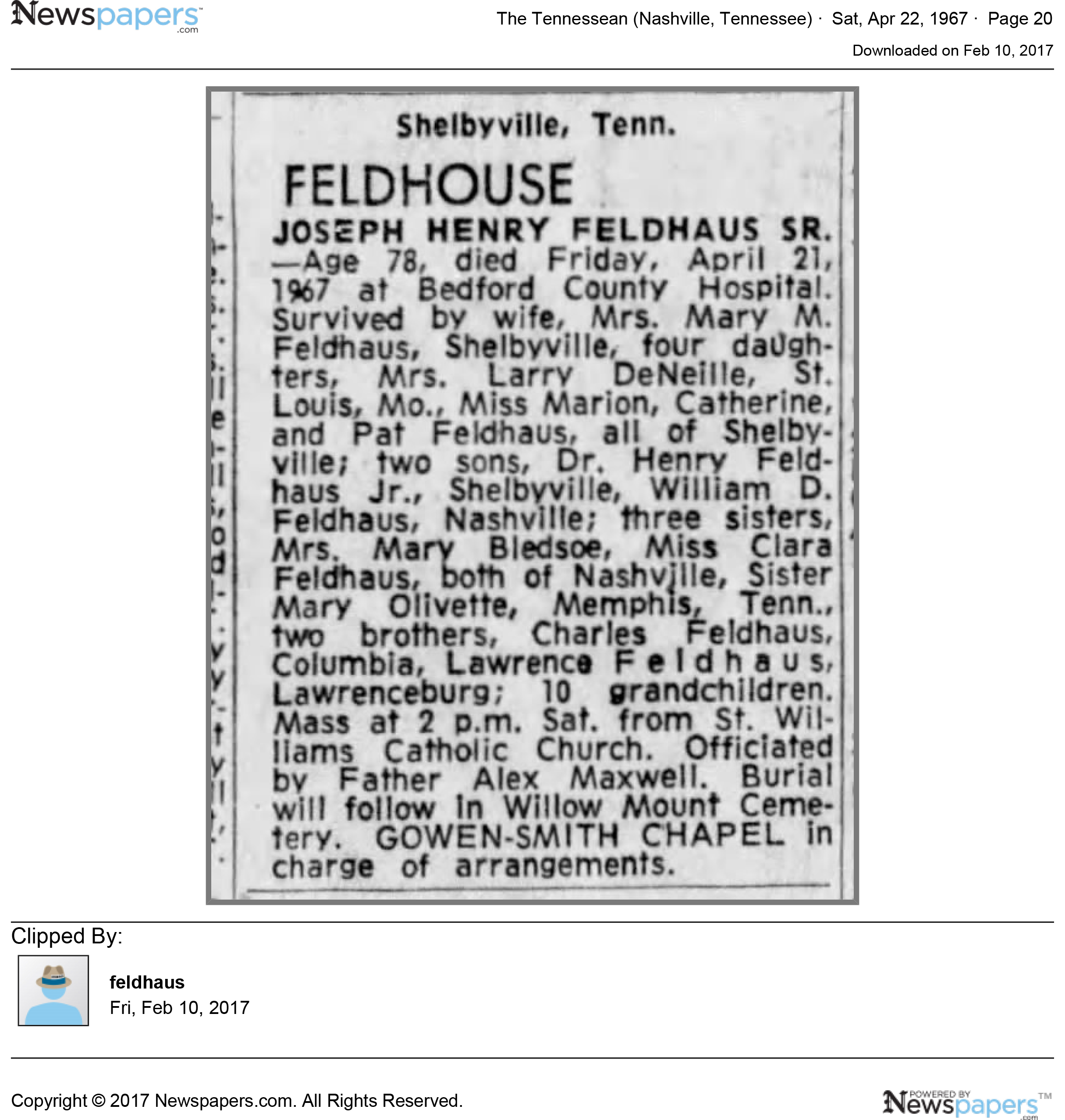 Billy Feldhaus was the other son of Henry Joseph Feldhaus, Jr. and is shown here on the right. &nbsp He lived in Nashville. &nbsp He was born September 24, 1934 and died on June 18, 2003. &nbsp Ann Boulie's son, Charles Boulie, is the one on the left.