"My sister Charlotte Philips, at the age of 16 was sent to boarding school not far from Nashville. Mrs. Dr. Priestley was the teacher. Her husband was President of Cumberland College. Mrs. Priestley often went in the river bathing, taking the girls with her. My sister being fond of the pleasure was generally one of the party. Unfortunately one day she went in but never returned. The next day her body was found and. buried at my father's. Truly it was sad for my parents."
Dr. James Priestley opened a female academy in 1816 on the banks of the Cumberland River according to the information below. However, it's not clear if that's where Charlotte was when she drowned. Charlotte died in January of 1911 at age 16.
Her sister says she was at a female boarding academy and her teacher was the wife of Dr. James Priestly. I was at the Two River's Mansion for a tour last week end and the guide said that there was a girl's school at the 1802 house next door run by an Abernethy family. However, I can find no written record of this.
I will do further inquiries about this, but for the moment, it appears the Priestly Springs location described below where Dr. James Priestly opened his school in 1916 appears to be where Charlotte was attending boarding school when she drowned. Perhaps Dr. Priestley's wife was working for the Abernethy's at their school at what became Priestly Springs prior to Dr. Priestley opening his school at the same location. Or it could be that his wife opened the school there before he became involved when Cumberland University shut down.

Two Rivers Mansion
Two Rivers Mansion Historical Marker, erected in 1968, is located In front of Two Rivers Mansion on McGavock Pike and contains the following:
| | |
| --- | --- |
| | "Built in 1859 by David H. McGavock, this mansion stands on land inherited by McGavock's wife, Willie, from her father, William Harding. The smaller house to the left was built in 1802. Dr. James Priestley's Academy, established about 1816, was located on the 1,100 acre farm 1 mile from the mansion on the Cumberland River bluff." |
According to Google Maps, Priestley Springs is located on the bluff overlooking the Cumberland river near Brily Parkway at the site of the Gaylord Opryland Headquarters building. It would be an easy walk down to the river as the bluff ends just to the north and the land levels out. The below newspaper article also gives the location of Priestley Springs consistent with the Google Maps location.



Dr. James B. Priestley
Tennessee State Museum Record No:1.831
Subject: Priestley, Dr. James B.
Artist: Earl, Ralph E. W.

Date: ca. 1815.
Media: Oil on canvas.
Dimensions: 24.50 X 29.50
Location: TN State Museum, 505 Deadrick Street, Nashville, TN 37243
Web Contact: TN State Museum
________________________________________

History: Portrait subject is a dark haired man wearing a dark coat with a white shirt and high white collar. He is wearing glasses and holds a book in his left hand. There is no apparent signature on the painting.
Notes: Dr. James B. Priestley (died 1821) was the first President of the University of Nashville when it was called Cumberland College. He opened the first academy for girls in Middle Tennessee.
Categories: Portrait paintings; Men; Education.

Source:
http://files.usgwarchives.net/va/rockbridge/bios/prstly1.txt

James Priestley, Sr., Biographical Notes - Rockbridge Co. VA

Compiled by M. L. Green (Jan. 3, 2000)
JAMES PRIESTLEY, SR.: b. 1760, in Augusta Co., VA, the son of WILLIAM SR. and MARY (----) PRIESTLEY; d. Feb. 6, 1821, Nashville, TN; Buried in old cemetery in Hendersonville, TN, on north side of Gallatin Pike; m. 19 Apr 1788, in Mercer Co., KY, to SARAH MCBRIDE - 6 children.

James Priestley, Sr., was born in 1760, in Augusta County, Virginia (later became Rockbridge County), the son of William Sr. and Mary Priestley. James went to live with Rev. William Graham, ca. 1774-1776, when he was still a young man, in order to receive a better education. He went on to become a famous scholar.

James Priestley, Sr. became a member of the first graduating class of Liberty Hall Academy, which later became Washington and Lee. As a boy of about 14, his intelligence was noticed in a class by Rev. William Graham, who took James into his household sometime after that, so that he could receive a good education.

William Priestley, Sr., James' father, was apparently a poor Augusta County farmer ca. 1774-1776, when James was taken in by Rev. Graham. It was the pre-Revolutionary times, and William and wife Mary had six children born ca. 1758-1772: Eleanor; Nancy; James; William, Jr.; Mary; and Elizabeth, "Betsy." William Priestley, Sr., did not have any deeds for land until five years after James went to live with Rev. Graham. On April 12, 1779, William purchased 115 acres at Todd Springs Run, on Buffalo Creek, from the estate of William Hall.

The "James Presley" in the 1783 Rockbridge Co., VA Tax List was taxed for one free white male over 21 and one horse. This is probably the same James, since James Priestley, the scholar, left Rockbridge County the following year, in 1784, for Kentucky.

In "ROCKBRIDGE HISTORICAL SOCIETY PROCEEDINGS," Vol. IX, pp. 49-50, article, "The First Graduating Class of Liberty Hall Academy," by Charles N. Watson, Jr.: "The last of the graduates of 1785 to be discussed was also a Rockbridge County man, James Priestley. He came from an indigent family, but his intelligence so impressed Reverend William Graham that he took the young man into his own home to insure the boy a proper education. Priestley became a distinguished scholar, devoting his life to the promotion of classical literarture. Greek literature was his favorite subject, and he knew the orations of Demosthenes by heart. He was briefly employed as a tutor at Liberty Hall." (Washington and Lee Historical Papers, 2:136).

In "PROCEEDINGS OF THE ROCKBRIDGE HISTORICAL SOCIETY," Vol. 5: 1954 -1960, p. 88, in the July 29, 1959 Address: "Dr. Archibald Alexander, Preacher, Teacher, and Person," by Dr. Goodridge Wilson: "Dr. Wilson stressed the importance of young Archibald's training under the teachers, William Graham and James Priestley. When he was 17 years old, Archibald was made tutor for the family of General Posey of Spotsylvania County where he decided to become a minister. The Presbyterian Church leaders for Virginia soon selected him intinerant minister for the state."
From Alfred Leland Crabb's NASHVILLE - PERSONALITY OF A CITY
(Indianapolis, IN: Bobbs- Merrill, 1960), pp. 77-78 & 173-75,
and
THE NATIONAL CYCLOPEDIA OF AMERICAN BIOGRAPHY, 8:130:
"In 1784, Priestley went to Kentucky where he became principal of Salem Academy at Bardstown. Under his guidance the school enjoyed a high reputation. In 1792, he moved to Baltimore and taught briefly at Cokesbury College. Returning to Kentucky, he taught at an academy in Danville. Finally, in 1809, he accepted the presidency of Cumberland College in Nashville."

"Throughout his career as an educator, Priestley devoted himself to those with the best and most classically turned minds. For others he had little concern. He had a somewhat irascible and imperious temper, and students and the community held him in great reverence and awe. On one occasion the students began to riot over some minor grievance. Dr. Priestley, arrayed in academic cap and gown, went out into the yard and confronted the rioters, his face rigid and grim, his eyes blazing. The boys looked at him for a moment, then, fully sobered, they scampered for their rooms and their Latin books."

"In 1816, when Cumberland College closed temporarily, Priestley opened a school for young ladies. When the college reopened in December 1820, he resumed his duties as its president. Two months later he died suddenly at the age of sixty-one. Cumberland College survived and is today known as Peabody College."

On Jan. 24, 1788, James Priestley was named as a "Witness to Consent" and was the Bondsman for the Rockbridge Co., VA Marriage Bond of his sister Mary to James Dorris. Consent was given by Mary's parents, "William and Mary Priestley."

James Priestley married Sarah Ann McBride, on April 19, 1788, in Mercer Co., Kentucky. She was born in Kentucky, the daughter of Capt. William McBride, who died in the Battle of Blue Lick, in 1782. Her mother was a Lapsley.

James and Sarah (McBride) Priestley had six children, born 1789-1800:

1) William Priestley (b. 1789, in Mercer Co., KY; d. 1820-1824);
2) John Thomas Priestley, Sr. (b. 19 Dec 1790, in Bardstown, KY; d. 5 Sept 1824, in Springfield, Sumner Co., TN; m. 24 May 1812, to Hannah Montgomery);
3) James Priestley, Jr. (b. Abt. 1794; d. Sept. 1830, in Jackson, Madison Co., TN; m. 13 Nov 1817, to Caroline Pavatt);
4) Philander McBride Priestley (b. Abt. 1795; d. Bef. Dec. 1865; m1 Tennessee Ward; m2 Matilda Summers; m3 Louisa Perkins);
5) Joseph L. Priestley (b. Abt. 1797; d. Aft. 1829); and
6) Sarah Elizabeth Priestley (b. 1800, in KY; d. 1873, in Lavern, TN; m3: Philip Hoover; Edwin Gregory; and John Burnett).
JAMES PRIESTLEY'S OBITUARY - NASHVILLE, TN NEWSPAPER (Feb. 1821):
"A great man has fallen in Israel."

DIED 6 Feb 1821 In this city yesterday evening, universally esteemed.

DOCTOR JAMES PRIESTLEY, President of Cumberland College, the institution over which he has presided so long and so usefully, has sustained in the death of this truly learned, pious and amiable man, an irreparable loss. Society in general, will unite with his family, to deplore so afflicting a dispensation of providence. Though he had been in delicate health for some time his death was sudden and unexpected.
Reprinted from Crabb, Alfred Leland. The Historical Background of Peabody College. Nashville: George Peabody College for Teachers, 1941.
On September 11, 1806, by legislative process, Davidson Academy became Cumberland College. Three years before, the charter had been changed to read "Davidson College," but the trustees decided not to accept this change considering it inadvisable to expand the institution at the time. But their modesty was short-lived. Early in 1806 Congress passed an act making among other grants, that of 100,000 acres of land for the maintenance of two colleges, one to be located in East Tennessee, and one in the western half of the state. There was no college in Western Tennessee, and the trustees of Davidson Academy petitioned its conversion into a college. The request was granted as stated above. "A board of nineteen trustees was incorporated in whom was vested the control of all the property of Davidson Academy together with one moiety of the congressional grant." The membership of the board was as follows: Thomas B. Craighead, James Winchester, Samuel Black, Moses Fisk, Robert Foster, David McGavock, Robert Whyte, Joseph Coleman, Robert Searcy, William Dickson, John Dickinson, David Hume, Joel Lewis, Abram Maury, W. P. Anderson, Duncan Stuart, Thomas Johnson, John Wynne, and Nicholas Perkins.

At the first meeting of the board held September 11, 1806, Thomas R. Craighead was elected president and $1,000 appropriated for books and equipment. President Craighead served until late in 1809, resigning by reason of some doubt as to his orthodoxy having been raised. One finds pleasure in noting that his record was later cleared by formal action of the Presbyterian Church. He had pioneered brilliantly in behalf of higher education in a new country.

James Priestley who had served with great distinction as principal of Salem Academy at Bardstown, Kentucky, was elected October 24, 1809, to succeed Craighead. He assumed office at the beginning of the ensuing year. He and the Reverend William Hume, a graduate of the University of Edinburgh, shared the instructional obligation of the college. The congressional grant of land ran into some complications, and, except in small part, never was realized. The college was financially uncomfortable from the first and in 1860 suspended activities. There is very little record covering the ensuing three years. It is known that the buildings were used for teaching private classes at intervals by William Hume, a Mr. Stevens, and a Mr. Bodwell.

Of Dr. Priestley's activities from 1816 to 1820 very little is known. The old files of the Cumberland Agricultural Society at a meeting held at Priestley's home, Monte Nashville papers indicate that he did very little to invite publicity. There is one reference in April, 1819, to the organization of Bello, located six miles up the Cumberland River from the settlement. It is recorded that another meeting was held at the same place June 26, 1819, and that Priestley was elected corresponding secretary.

On November 13, 1820, under the caption, "A Revival of Learning," it was announced that the trustees of Cumberland College were determined to renew the operations of the college and that it would reopen on the first Monday in the following December. Dr. Priestley would resume as president. The Reverend Mr. McGuiggin was chosen professor of languages, and the Reverend Mr. Campbell was elected to teach three days a week in the department of Belles Lettres. Tuition was fixed at $15 a session and there would be two sessions a year ending respectively the first of December and the first of May. The board stated that it was duly conscious of its obligations and it promised every effort to meet them. The signatures to the proclamation were: James Priestley, Felix Grundy, Robert Foster, James Bunne, and Alfred Balch. It may be remarked that a particular tie seems to have connected Felix Grundy and James Priestley. Grundy had been a pupil of Priestley's at Salem Academy. He preceded Priestley to Tennessee and there is some circumstantial evidence to indicate that he prevailed upon Priestley to settle at Nashville. Grundy must have been of great influence in the early days of Nashville. His name appears in almost every issue of Nashville papers from 1818 to 1825, or later. He had part in all phases of the young city's life.

The college reopened on schedule and under favorable auspices. But God disposes! On February 6, 1821, President Priestley died, and after some feeble efforts to continue, the college suspended temporarily. The press carried word of the president's funeral, held at the college, but the place of burial was not named. A few weeks later the Nashville Whig asked editorially of its readers for a biographical sketch of "our late celebrated fellow citizen, Doct. Priestley." The sketch was written and printed but it manifested an unsatisfying lack of objectivity. In the literary style of the day it was more concerned with qualities of nobility than matters of nativity. It missed many opportunities to clear up points which remain obscure. And so passed a great schoolmaster, and, in some part, a man of mystery.


In reading the book about Hendersonville Tennessee, "City by the Lake" by Tim Takacs, I learned that "There were many graves in the yard (of the Bradford-Berry House below) of the former families that lived there. Including Dr. James L. Priestly who was a school teacher at Dr. Priestly School located on Lebanon Rd. It was noted to be one of the best schools in the area."
The below Bradford-Berry House is still standing in Hendersonville in 2015.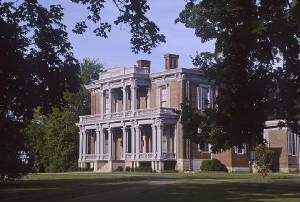 Two Rivers Mansion
Two Rivers Mansion , one of the last of the elaborate antebellum country homes built in the Nashville area and one of the earliest and best preserved of the ornate Italianate houses in Middle Tennessee, was once part of an 1100 acre plantation located on fertile, rolling land between the Stones and Cumberland rivers. The junction of the two rivers suggested the name given to the property by its first owner, William Harding whose family built the Belle Meade plantation in west Nashville.
The mansion, built by David McGavock in 1859 on the eve of the Civil War for his beautiful bride,William (Willie) Elizabeth Harding but not finished until the 1870's, was inhabited by the McGavock family for three generations until 1965, when the last heir died and the property was purchased by the Metropolitan Government of Nashville and Davidson County. Today the fourteen acre tract, which includes the mansion and one of Nashville's oldest brick houses built in 1802, is listed in the National Register of Historic Places. Closeness to Nashville, frontage on the rivers, and the abundance of springs, wild game and rich soil made the Two Rivers property valuable from the first time it was settled in the 1790's. Among the original owners of portions of the land was Andrew Jackson who resided close by on Hunters Hills before he purchased the Hermitage. The first home built on the property in 1802, a two-story brick house in the Federal style by David Buchanan, still stands to the rear of the larger 1859 mansion.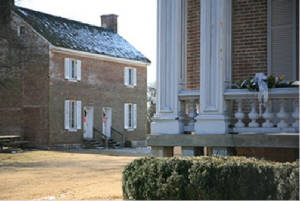 William Harding purchased the 476 acres farm in 1819 from Willie Barrow at the confluence of the Cumberland and Stones River. Harding acquired additional land totaling 1100 acres before settling down and marrying local Elizabeth Clopton in 1830; he died in 1832 shortly before their only child was born. Daughter William Elizabeth Harding named in honor of her parents, would inherit the plantation upon her marriage to her cousin David H. McGavock in 1850. The young couple and their one son, Frank, lived in the 1802 house while they planned and built the mansion in their backyard which was erected in 1859. One can see the names "David, Willie and Frank" stamped in three of the bricks on the back porch. The bricks and the millwork were crafted on the plantation by slave labor.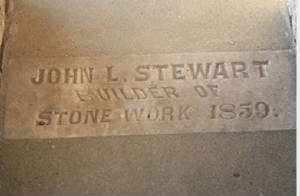 In the 1880's the thriving estate was known as the Two Rivers Stock Farm with livestock, garden, orchard, a dairy operation, fox hunting and also the center for Morgan horse breeding. One document states that there were over fifty buildings on the property at one time such as barns, horse stalls, tenant houses and sheds. Many of these buildings were destroyed by a tornado in 1933. Frank McGavock took possession of the farm for a short time period in the late 1890's, which was near bankruptcy after the financial Panic of 1893 and subsequent severe depression. To keep from losing the property, Frank's only son Spence, inherited the estate and leased out the farm in the early 1900s while he worked as a shoe salesman.
Spence McGavock married Mary Louise Bransford of Melrose in 1928. The couple remodeled the mansion, adding plumbing, electricity and heat. They lived at Two Rivers only four years, though, returning to her family home at Melrose , after her mother's death in 1933. Three years later in 1936 Spence McGavock died, and for the next eighteen years his widow remained at Melrose while caretakers continued the Two Rivers farming operations.
Mary Louise Bransford McGavock returned to Two Rivers in 1954, where she said she had always been happiest and remained until the time of her death in November 1965, the last of the McGavock family. Her will named several family members, friends and employees as beneficiaries. She also instructed that the remainder of her estate be sold to be used for the operation or expansion of the Division of Hermatology at Vanderbilt Hospital and Medical School . This research fund, named the William S. Bransford Fund in honor of her father, is still providing assistance.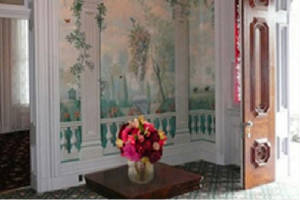 Upon acquiring the 447 acre property, the Metropolitan Government of Nashville in addition to the fourteen acre historic site, developed two schools, a golf course, park greenway, water park (Wave Country), skate park, frisbie golf course, picnic, etc.; many recreational activities for families to enjoy. Restored to the stately architectural splendor of the mansions' early days, Two Rivers mansion reflects the taste, textures and colors of the post-war era and today remains a centerpiece for gatherings of all kinds of social occasions as well - weddings, parties, anniversaries, birthdays and special events for future generations to enjoy

The Harding Connection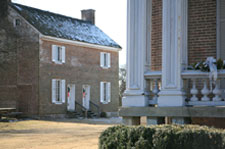 The two story Federal style 1802 house above was built by David Buchannan in 1802. In 1819 William Harding purchased the house and 476 acres from Willie Barrow.
William Harding who owned the land where the Two Rivers Mansion was built was a son of Giles Harding who came from Virginia with his family to Davidson County in 1798 with his family which included a large family including William Harding, John Harding, and Thomas Jefferson Harding.
John Harding bought land near his brother William, owning 250 acres which he called River Farm, between the Stones River and the Cumberland Rivers.
In 1807 John Harding bought 250 acres and a log cabin from Daniel Dunham at Richland Creek on the Natchez Trace, six miles west of Nashville, where he expanded the farm to 3,800 acres and constructed a Federal style home, investing in thoroughbreds, and calling it Belle Meade Plantation.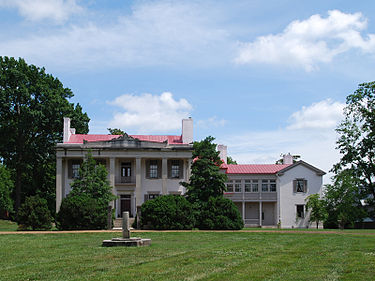 John Harding also invested in the Nashville Female Academy started by Dr. James Priestley at Priestley Springs near the Two Rivers plantation owned by his brother William. He sent two of his daughters to the school.
William and John Harding's brotherThomas Jefferson Harding had a son, William Perkins Harding, who married Charlotte Philip's brother's (William Duncan Philips') daughter Milbry Catherine Philips.
William Perkins Harding and Milbry Catherine Philips had a daughter named Mary "Mollie" DeMoville Harding who grew up at the Belle Meade Mansion and whose story is chronicled on this web site on page
Milbry Catherine Philips